Hardwood Flooring in Kitchens
Many people ask, can I put hardwood in a kitchen? Short answer: yes. It has been used in kitchens for centuries and provides that classic yet high-end look to your home and will allow the flow of the flooring to continue through the rooms, adjoining them to give that warm and open concept to your interior. There are some things to consider, though.
Examples of Hardwood Flooring in Kitchens
Kitchens are High Traffic Areas
First of all, your kitchen is one of the most used rooms in your home. Whether you are storing food, eating/dining, cooking, or gathering around the table, there is generally more traffic in a kitchen than in any other room. Because of the high traffic in this area, you want to make sure any flooring you choose can stand up to the typical wear and tear.
Hardwood flooring is generally a good option for high traffic areas (depending on the species). Some species that are commonly used in kitchen areas include white oak and hickory. Not only are they harder on the Janka scale than some other species used in homes, they are absolutely gorgeous, too! There are also various finish types that can help protect your wood floor from scuffs, dents, and other blemishes. Of course, it is always good to check with your local flooring expert to find the best option for your home and lifestyle.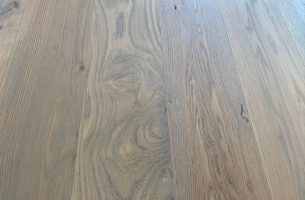 Kitchens are High Impact Areas
Along with being a high traffic area, a kitchen is generally also considered to be a high impact room. This means there is a greater likelihood for spills and dropped items (think dishes, utensils, etc.). This is why it is essential for the species of wood chosen to be hard enough to withstand dropped items and the finish to be protective enough for spills.
Kitchens are Semi-Moist Areas
Since there are various amounts of plumbing and potential for leaks and spills, kitchens can be described as semi-moist. They tend to have less moisture than bathrooms but more moisture than some other areas of your home. However, it is still important to consider how moisture affects wood floors. You can read more about that here.
One of the major concerns for wood flooring is water damage. While it is true that hardwood can be damaged by moisture, especially in areas where it might get wet often, it is important to remember that other types of flooring can be ruined by moisture as well. For instance, you rarely see carpet in bathrooms because it can absorb water and mold or cause damage to the subfloor.
This fear of water damage may cause some to say tile or concrete is the best flooring option for wet areas. For truly wet areas (around indoor pools, for example), we would agree. However, for semi-moist areas like a kitchen, you do not have to be stuck with something that feels cold and hard beneath your feet. And, it is really the large spills (like leaky dishwashers) that you need to be concerned about anyway. Small splashes and spills rarely cause damage to hardwood floors properly finished, especially if they are cleaned up quickly.
If the worst does happen, though, the good news is there are professionals who are skilled at removing water, replacing damaged boards, and refinishing areas when needed. Check out this short video of Auten Wideplank Flooring using our drying machine to remove moisture from hardwood flooring after a refrigerator leak.
Tips for Hardwood Flooring in Kitchens
If you are using hardwood in your kitchen, there are some things you should do to make sure your floor stays beautiful for a long time. Most notably, you should try to clean up any spills quickly and thoroughly.
It is also important to make sure your hardwood floor in the kitchen is clean. Dirt and grit can damage the finish on your floor, making it less water-resistant (notice we said water-resistant, not water-proof!). To extend the life of your floor, you need to sweep and vacuum regularly. The amount of mopping depends on the finish type. The Spruce recommends only mopping your floor occasionally and, when you do, use a slightly dampened mop or towel instead of wet-mopping. If you have chosen to finish your hardwood floor with natural oil, here are some tips on cleaning it.
Speaking of finish, there are many options available to you to help protect your kitchen's hardwood floor. One includes penetrating natural oil. Still, the most common type of finish for a semi-moist area like a kitchen is polyurethane.
You might also consider putting down a rug or mat in front of notoriously wet areas (like in front of a kitchen sink). It will absorb any droplets, protecting the floor from moisture.
Overall, whether you should install hardwood in your kitchen depends on the nature of your household. Is there a lot of traffic coming into your kitchen from outside, a pool area, or a garage? If so, hardwood flooring might not be your best option. Otherwise, a beautiful hardwood floor might be just the element your home needs to be warm, homey, luxurious and inviting.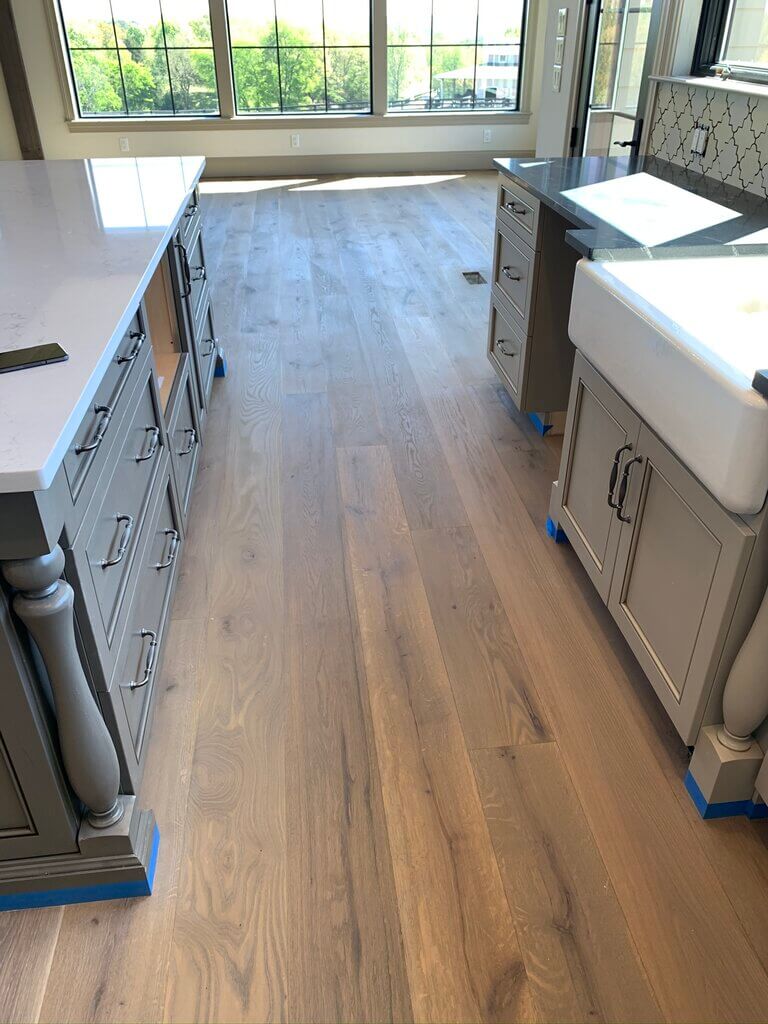 Each home is different, and the needs of the family should also be considered. If you would like to have hardwood flooring in your kitchen but are unsure if it is the best option for you, give us a call! We would be happy to discuss your options.