As the year comes to an end, it is exciting to look back on some of the trends that will likely continue into 2022. A few months ago, we wrote about the Hardwood Stain and Color Trends for 2021, and the number one trend was that of "Natural Color." This describes the color of the floor itself, but what about the rest of the room? Well, in April of 2021, Hardwood Floors Magazine announced that the color family of the year was Milled Naturals. This was certainly evident in the color and stain choices of hardwood floors, but it goes even further, including wall paint and decorations.
What does "Milled Natural" mean?
First, milled natural is not a color in and of itself. Rather, it is a collection of colors that seamlessly fit together, creating a warm and natural palette. Some of these colors include various shades of brown, beige, nude, caramel, and off-white. These are colors that tend to give off an earthy vibe and create a sense of comfort and home.
Check out this collage we put together to give you an idea of what the milled natural color family looks like: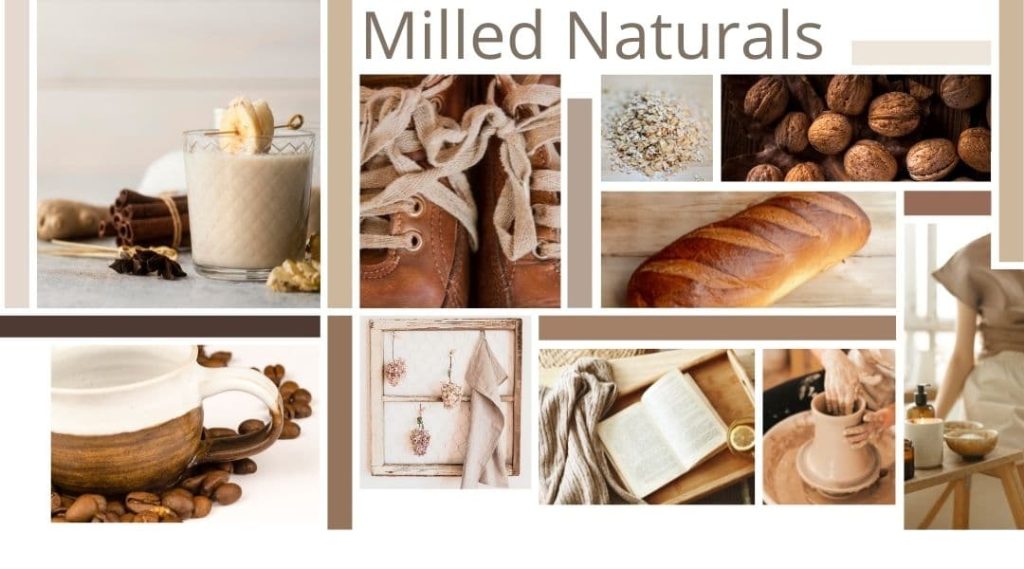 As you can see, the milled naturals color family brings to mind fresh baked bread, a warm cup of coffee, soft leather, oats, and a nice glass of milk. It elicits relaxation and a sense of gentle warmth all the way around.
With this earthy and homelike base color palette, some of the best corresponding accent colors also come from nature. Consider adding a splash of hunter green, dandelion yellow, or orange. Maybe even consider incorporating Sherwin-Williams Color of the Year for 2022 "Evergreen Fog." They describe it as a "versatile and calming hue, a chameleon color of gorgeous green-meets-gray, with just a bit of blue. It's a simple but sophisticated wash of beautiful, organic color for spaces that crave subtle yet stunning statement shade." They have also listed colors that pair well with this muted green, and guess what, those colors are in the milled naturals color family!
Here's a short video of the Sherwin Williams color of the year:
So what hardwood flooring goes best with the above colors? We suggest a wide plank white oak floor with a natural oil finish. Using natural oil maintains the light, fresh cut look of white oak while providing excellent protection. You can also add a slight white tint to the finish to create an even lighter toned floor.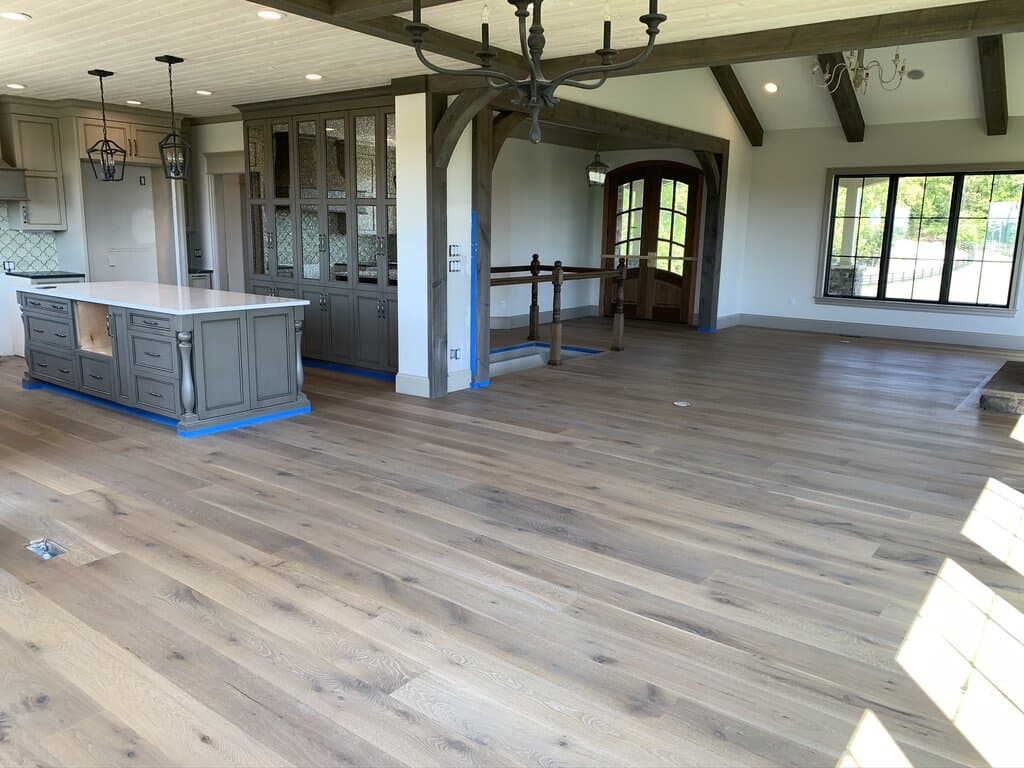 If you want to read more about the Milled Naturals color family and more decorating tips, Interior Designer Emily Morrow Finkell wrote a fantastic article in Hardwood Floors Magazine that we highly recommend you take a look at. You can check it out here: The Color Family of the Year: Milled Naturals.
She discusses some of the psychological and emotional benefits of using this color palette, saying, "As we continue to search for support, comfort, trust, and interactive touch, the universal warmth of the warm natural color family fills the emotional needs and gives us new ways to express ourselves."
References:
Emily Morrow Finkell, "The Color Family of the Year: Milled Naturals," Hardwood Floors, April 1, 2021,

https://hardwoodfloorsmag.com/2021/04/01/the-color-family-of-the-year-milled-naturals

.

"2022 Color of the Year, Evergreen Fog SW 9130: Sherwin-Williams," Sherwin Williams, accessed December 29, 2021, https://www.sherwin-williams.com/color-of-the-year-2022.