Replace or Refinish Hardwood Floors
Making the decision to refinish or replace existing hardwood floors is one that people often come to us to help them decide. Many factors go into making the decision, such as the age of the original floor, the number of times it has been refinished already, the species of wood, the type of finish used, aesthetics, and others. There is also the cost of refinishing versus replacing to consider and the size of the job. Most likely, it is always more cost-effective to refinish a floor than to replace it. Keep in mind that we are discussing a total resand to raw wood and then recoating the entire floor. Performing a buff-&-recoat can be even less expensive than a total refinish. Still, that service requires some particulars for a floor to be a good candidate. Additionally, with today's trend of European Oiled Floors, we can have the option of just re-oiling an existing wood floor.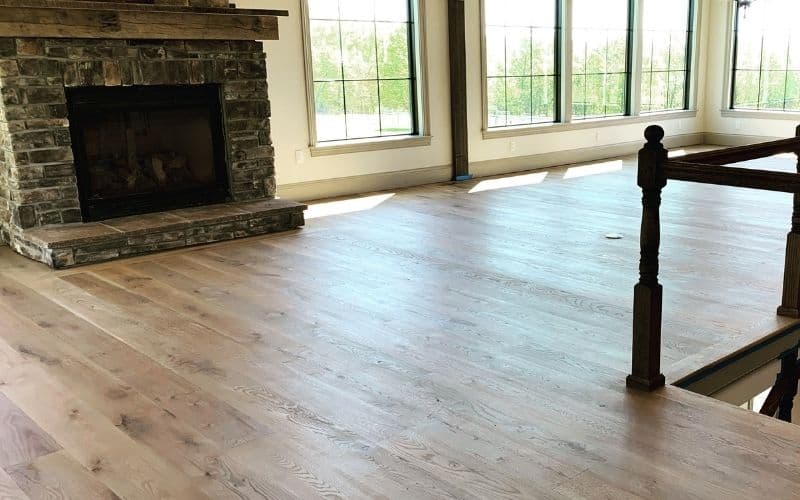 In this article, we want to talk about the different things people need to consider when deciding to refinish or replace their hardwood floors. We know that every situation is different, so there is no one-size-fits-all answer. This is why it's important to go over your options with a hardwood flooring expert to make sure you make the best decision for your home or business.
The amount of time it takes to refinish an existing floor or install a new wood floor depends on the extent of the project. If there are little to no structural or cosmetic repairs that need to take place on an existing floor, then the time to refinish might not be very different from the time it takes to install a new floor. That is, assuming the new floor is to be finished on site. If the floor is pre-finished, then the installation time is lessened. The other thing to consider is if the old floor needs to be removed entirely before installing the new one. Each of these factors can significantly impact the time it takes to either refinish or install.
We briefly mentioned cost earlier, but it is a huge factor in whether you should refinish your existing floor or install a new one. In fact, it is usually the first thing people consider when trying to make the decision. The cost is USUALLY less to refinish a floor than to replace it. This is because you do not have to pay for new material (which costs for lumber can be highly volatile, especially in today's market), nor do you have to pay for the old floor to be removed and disposed of. While extremely rare, there are situations where replacing a floor is actually more cost-effective than refinishing. This is particularly true if there are significant structural or cosmetic fixes that need to take place before a floor can be refinished. Usually, once there is knowledge that the cost to refinish a floor is approaching the cost to replace it, the customer will weigh their options and choose to replace the floor with another wood floor option that fits today's trends. For example, changing to a wider plank or different species. Again, it's best to talk to an expert and get quotes for both options if cost is the main factor.
The age of the floor should also be considered. Old floors may have significant wear and tear or may have already been refinished multiple times. Generally speaking, a solid wood floor can be sanded around 3-5 times over its lifetime. This depends on the equipment and techniques of the previous refinish technicians. If the floor has been sanded this many times, refinishing the floor might have little effect and can jeopardize the structural integrity of the planks. However, if the floor has only been resanded once or twice, there could be a benefit to refinishing an older floor, especially if you want to maintain the original charm of a historical building. We have refinished floors over 100 years old, and the stories those floors tell are absolutely fascinating.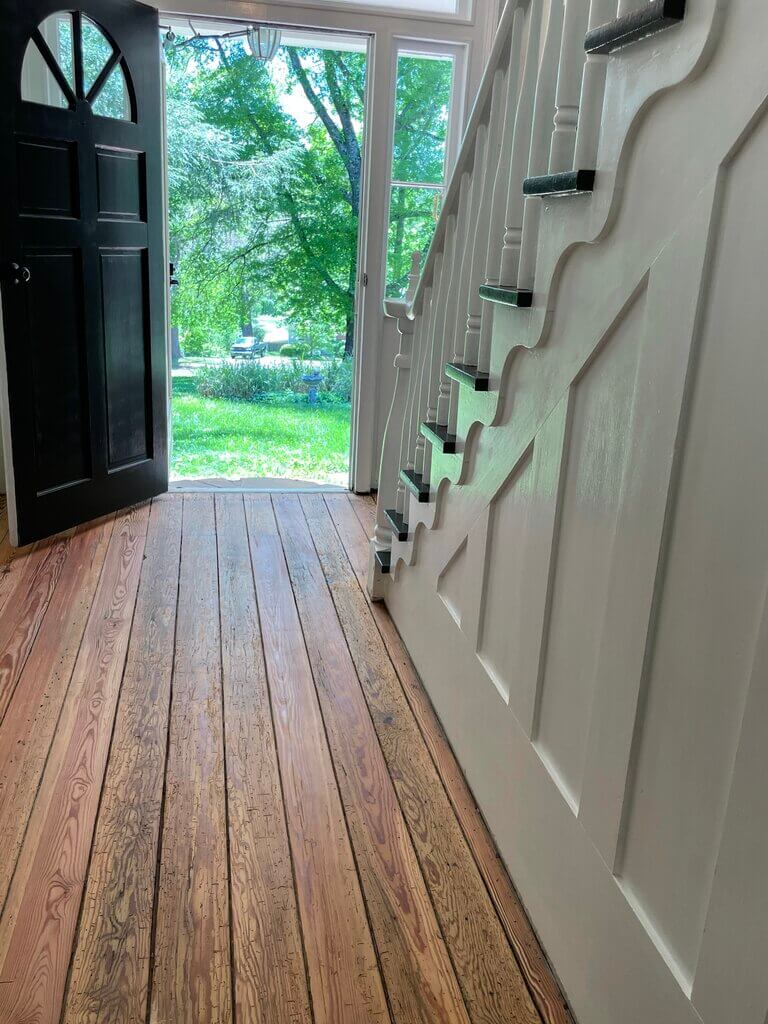 Sometimes a homeowner just wants a different look and feel in their home. The desired aesthetic could dictate whether someone should refinish or replace their existing hardwood floor. For example, if you want a darker or lighter colored floor to go with a new color palette, refinishing might be enough. There are many finishing and color techniques that can produce the result you are looking for. However, if you are looking to have a specific design like herringbone or parquet or want to have wide planks instead of narrow, you will have to install a new floor. This is also true if you want to replace a cheaper species of wood with a higher quality one like White Oak. So depending on the look you want, you may need to completely replace your old floor instead of refinishing it.
These are the four top things you need to consider when deciding whether to refinish or replace your existing hardwood floor. Of course, there are many other factors that can come into play. The decision is usually not as cut and dry as some may think.
If you are interested in speaking to a hardwood flooring expert about your options, we would be happy to speak with you. Just give us a call or fill out the form below. If you want to see some examples of floors that have been refinished or new floors that have been installed, be sure to check out our portfolio.