What Furniture Goes With Light Wood Floors?
While darker hardwood floors have been the trend for the past few decades, lighter wood floors are coming back on the scene. People are leaning more toward White Oak flooring with a natural oil finish that retains the wood's lighter and more natural look and feel. If you want to learn more about natural oil finish, check out our blog on European Oil. Other people are choosing to whitewash or add light grey hues to the wood to create a unique, lighter-colored floor. This is particularly popular for those looking for a more modern or rustic look and feel to their home or business.
The benefits of choosing a lighter-colored floor over a darker one include making smaller spaces feel larger, bringing in more light, and creating an open and airy feeling. Additionally, light wood floors generally hold up to wear and tear better, showing fewer scratches and dents. That means it can be the better choice if you have kids or pets in the home. You can click here to learn about the best hardwood flooring for dogs.
Once people jump on the light wood flooring train, they begin to wonder what furniture looks best. We have consulted some of the top design articles and combined what some of our clients have done to determine what furniture goes best with light wood floors.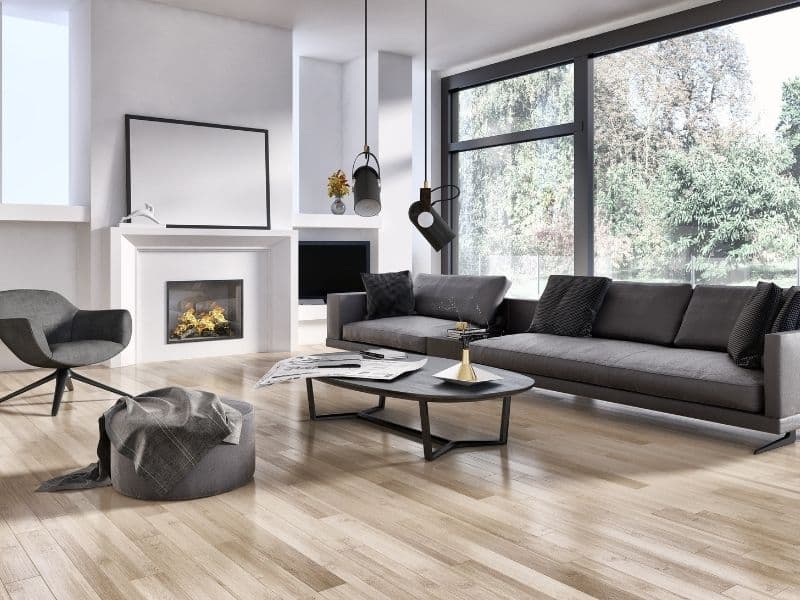 First, a trend on Instagram emphasizes the "pale room." This is where every part of the room is some type of white or light beige with no added splashes of color. When done carefully, this style can result in a room that looks open and clean. However, it is easy to end up with a bland, boring room.
Most designers recommend that you have some element of contrast. But once again, you need to be careful not to make the contrast too dramatic, or it can create a jarring feeling. Generally speaking, you will want to try to stay within a few shades darker than the color of the floor. For example, if your wood floor is whitewashed or a light grey, black pieces of furniture can be more of a distraction and eyesore. The key here is to make sure the contrast isn't too strong. You also want to be careful not to have too many colors and grain patterns when choosing contrasting pieces. Too many of these elements will look busy and create a sense of chaos.
You also want to think about the natural tones within the wood floor. Unless the floor has been whitewashed, you will usually be able to detect subtle undertones. These can range from red to yellow to brown, depending on the species of wood chosen and the type of finish used. Pay attention to these tones and use pieces that have similar undertones. This does not mean that you have to find furniture with the exact wood and finish type. That would be an extremely difficult task, and even if the color matched perfectly, the grain pattern would likely not. So, don't put yourself through that trouble unless you are just looking for a challenge!
Here are some timeless decorating options for homes with light wood flooring:
For light brown and beige hardwood floors, neutral-colored furniture can create an earthy, natural feel to the space. The space will feel warmer and be inviting and comfortable.
Another classic choice for light wood flooring is white or cream-colored furniture. You can often find this style in homes with a coastal theme. The result is a light, open space that feels fresh and clean. With a light floor and white or cream-colored furniture, you can add splashes of color to bring your own unique personality to the room.
Of course, the color and grain pattern of the furniture are not the only things to consider when it comes to decorating. You can mix materials, too! If you have a white floor, throw in some furniture with metal legs to create a more modern or industrial look. If you are looking for a more rustic feel, throw in a piece of furniture that reflects a weathered look.
Many furniture options will go well with your light wood floor, no matter your style preferences. Ultimately, it comes down to your personal taste and what makes you feel most comfortable. Many people have success decorating on their own. However, if you are looking for a professional interior designer to create the perfect space for you, we recommend Sharon Blair at Blair's Interior Design. Tell her Auten Wideplank Flooring sent you!
Interested in a light wood floor for your home or business? Give us a call or fill out the contact form below. We would be happy to discuss your options!