Engineered vs Solid Hardwood Floors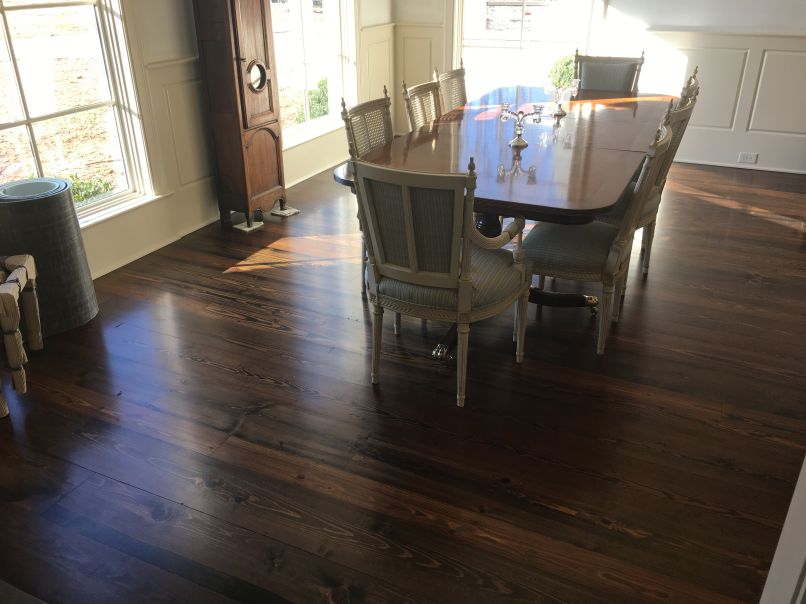 When people come to us to find the perfect wood floor for their homes, they have often performed at least a basic search to see what types of hardwood flooring are available to them. Most of what they find is what is called "Engineered Wood." Does engineered mean it is fake? No, not really. Both engineered wood and solid hardwood are 100% real wood. Solid hardwood is real solid wood throughout its entire thickness. Engineered, on the other hand, has a thin top layer of real wood with an underlayer of plywood.
Ok, so if they are both "real" wood – what's the difference? Is one better than the other?
Solid hardwood flooring has been used for centuries. It is cut directly from logs of a tree and can last for over 100 years. It is the classic choice, adding the beauty of natural wood into your home. Essentially, bringing the outside inside.
Engineered wood flooring is a relatively new option, utilizing technology to create the crisscrossed layers of wood slices for the sublayer and the adhesive to bond the top layer to the sublayers.
Solid Wood
100% real wood from top to bottom. It is usually made from hardwood species like oak, maple, or walnut but can come in almost any type of wood imaginable.
Engineered Wood
Thin layer of real wood (the veneer) bonded to a sublayer of high-quality plywood. The plywood is sometimes the same type of wood, sometimes not. Check with the manufacturer!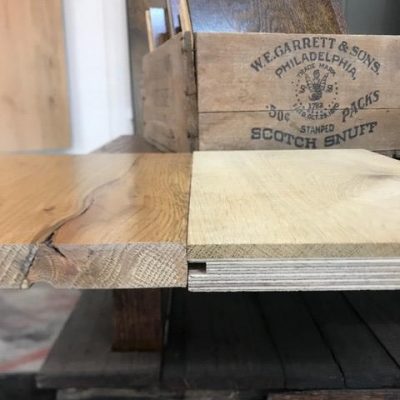 There is some debate on this, depending on where you live and what type of subfloor you have, as well as the skill of your installer, the type and thickness of wood species you choose (of course), and the type of finish.
Both have good resistance to heat, but engineered wood is recommended for flooring with radiant heat. Neither is recommended for truly wet locations – you CAN install them successfully, but you generally want to start thinking about tile and vinyl if it rains every day and you don't have a dehumidifier!
Engineered wood does slightly better in humid conditions since the sublayer makes it more stable and less likely to expand and contract. It is also recommended if you are installing over concrete. However, if solid wood is treated and installed properly, it can do just as well. Make sure you talk to your local hardwood flooring expert before making that decision. They have likely installed both kinds of flooring in your area and will know which is your best option.
How about sanding and refinishing?
Solid Wood
Since it is solid wood all the way through, it can be sanded and refinished multiple times. If you are someone who likes to redecorate and switch things up from time to time, this is the best option for you.
Engineered Wood
Depending on the thickness of the top layer, you can sand and refinish just once or twice… but maybe not at all. Thicknesses range from 1/12 (wallpaper thin) to ¾ (more like solid wood thickness). However, the thicker the top layer, the more expensive it will be!
Many DIY'ers prefer engineered wood over solid since it is easier to install. Installing solid hardwood floors requires some skill, so it's best left the professionals. However, unless you have some skill already, it's best to leave either type of installation to the professionals.
Solid hardwood is usually nailed or glued to a subfloor while engineered wood can be nailed, glued, stapled or simply used as a floating floor with it's click-and-lock design.
The installation method depends on the type of wood, the thickness of it, the subfloor, and the moisture level. With so many variables, again, it's best to have a professional installation.
There are so many factors that go into the cost of both types of hardwood flooring. However, on average, engineered wood flooring costs slightly less than solid wood flooring unless you want thicker engineered wood flooring, then solid is slightly cheaper.
We prefer Solid Hardwood Flooring – Here's why:
While engineered hardwood flooring has its merits, we believe solid hardwood flooring is the best all around choice.
One, because it lasts longer. When you install solid wood flooring in your home, you are making an investment that will outlive you. It has a proven reputation for being a good investment and adds value to your home if and when you decide to sell.
Two, it is easier to match to existing wood flooring in your home. With solid hardwood, you generally have more customization options AND you can match colors on site. Engineered wood can be hard to match and repair. This can sometimes lead to having to replace the whole floor if you have damage.
Overall, with solid hardwood's longevity and durability and how it allows home owners to be more flexible with customizing their interior design, we believe it is the superior product.
Call us today to see which type of hardwood flooring fits your needs the best. Auten Wideplank Flooring installs both solid and engineered hardwood floors.