Installing Hardwood Flooring Over A Concrete Slab
We often hear people say something like, "so-and-so said I can't put hardwood on a concrete slab." We are here to tell you that you can with proper subfloor preparation and installation.
First, let's talk about why you might want to cover up that concrete floor in your home or business. Even with new concrete paints that provide a variety of textures and colors, a concrete floor is cold and uninviting. Adding a hardwood floor can transform your space so that it is warmer and more inviting. It can also add value to your space, bringing in a higher price if you decide to sell.
Here are two rooms with a similar color scheme. One has a concrete floor, the other a hardwood floor. You can see that just with the change in flooring, the wood floor adds an element of warmth and makes the room more inviting.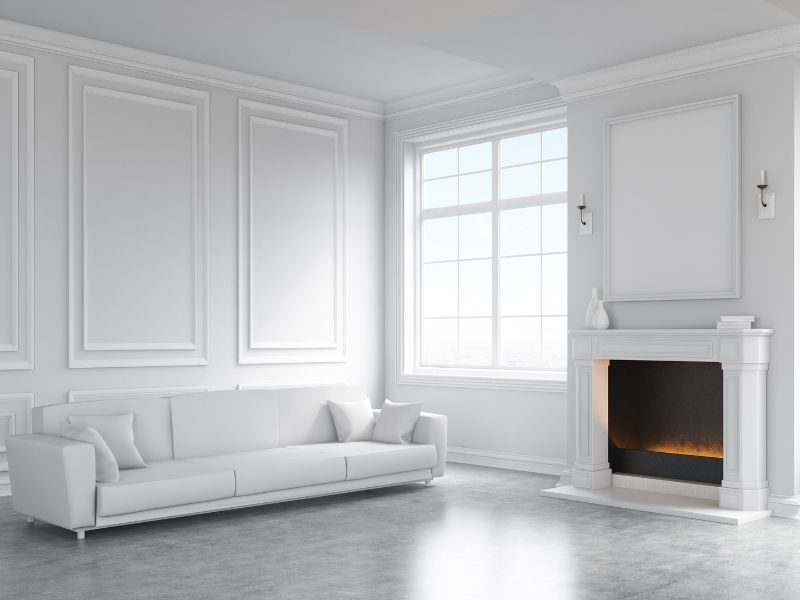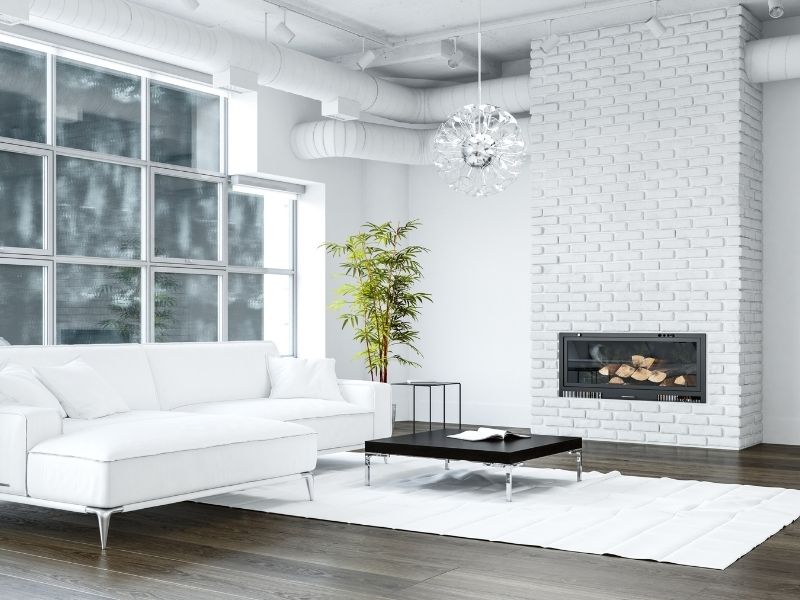 I would certainly rather curl up with a book by the fireplace in the room with hardwood floors over the other. Of course, everyone's tastes are different, and what may appeal to some aesthetically might not appeal to others. However, if you want to cover up your concrete slab with hardwood, there are some things to consider…
 One of the biggest things to consider is moisture. If not correctly assessed and protected against, moisture can cause wood floors to warp or buckle. This is why the subfloor must be properly prepared – an expert will be able to tell if you need waterproofing, such as a moisture barrier, installed.
Newly poured concrete slabs need time to have the excess moisture evaporated out of them. There's some debate between the wood flooring industry and the concrete industry on how long to wait before laying floor covering. There are some sprays that claim the floor is ready for cover after 24 hours. However, the wood flooring industry generally recommends at least 60 days.
The National Wood Flooring Association provides these further guidelines when installing hardwood over a concrete slab:
Always follow the wood flooring and adhesive manufacturer recommendations for substrate requirements, substrate preparation, moisture testing and limitation requirement, and application specifics.
The concrete slab must be flat. Tolerances are 1/8" within a 6' radius, or 3/16" within a 10' radius.
High spots must be flattened and low spots must be filled. Be sure to follow all OSHA regulations regarding Silica Dust exposure.
The concrete slab must be dry.
Appropriate moisture tests must be conducted to ensure proper MC of the slab.
A vapor retarding membrane with a perm rating of .13 or less, such as 6mm polyethylene film, is strongly recommended.
The concrete slab must be a minimum of 3,000 psi.
The concrete slab must be free of all contaminants, including sealers, waxes, oils, paints, drywall compounds, etc.
The concrete slab must be free of cracks, loose areas, and hollow spots.
You can view the official document here, and if you want even more detail, you can pay for a membership to NWFA and access in-depth information about installing over concrete subfloors  through their member portal.
Engineered wood is best when installing a hardwood floor over a concrete slab in a room below ground level. Several areas of the floor need to be tested for moisture levels before this is done, though.
The cut of the board and which part of the tree it comes from is an important factor, especially when installing wide plank flooring. Planks cut from the center of a tree are less susceptible to the effects of humidity. You can read about the different types of cuts in our blog about "Live Sawn Hardwood Flooring" and about how humidity can affect hardwood floors at "Humidity and Hardwood Floors."
Wood planks need to be appropriately processed by being kiln-dried then air-dried afterward for an adequate amount of time. They also need to acclimate to the home environment before installation.

Planks should have ridges on the understand to relieve tension and aid in installation. These ridges also allow the adhesive more surface area.
The owner of Auten Wideplank Flooring, Chip Auten, says the prep is the most important step when installing hardwood over a concrete slab. You have to grind the top layer of the concrete to break through the sealer layer. This makes the concrete more porous so the glue can grab, fastening the wood to the concrete while also sealing the concrete.
The process of grinding concrete is slow and labor-intensive, even with a machine. However, we are working on something that should revolutionize this process! Stay tuned!
Installing hardwood flooring over a concrete slab is complicated. You wouldn't want to spend the time laying flooring only to have it ruined by improper installation. This is why it is imperative that you have a professional who has successfully installed hardwood on concrete slabs to do the job.
If you would like to talk to someone about your options, we would be happy to assist. Give us a call or fill out the form below to speak to a hardwood flooring specialist today.