Reclaimed Wood Floors have been very popular lately, and we believe this trend will continue to grow as many look to become more eco-friendly and conscious of protecting the environment. Additionally, more people today want to customize their home with a unique character and style. Reclaimed Wood Flooring allows them to do just that!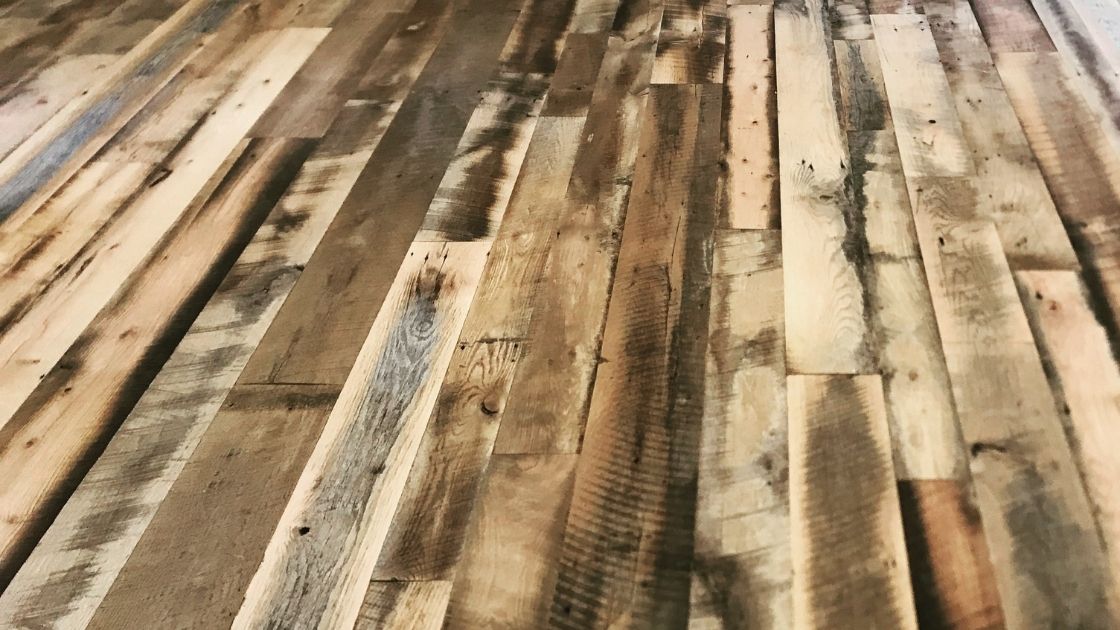 Also known as recycled flooring, reclaimed wood flooring consists of hardwood floors that have been salvaged from other places, such as old buildings and farm barns. This means no two pieces of flooring are the same, making reclaimed wood flooring even more unique.
This type of wood is eco-friendly as it does not increase greenhouse gases in the atmosphere. It also decreases our carbon footprint because it is not thrown in a landfill. One should also bear in mind that using reclaimed wood reduces the harvesting of new-growth trees. Essentially, one demonstrates their goal for sustainability by installing reclaimed wood flooring because it lessens pollution, protects living trees, and generally requires less energy to be consumed. These are all important aspects of helping the environment.
Aside from being more friendly to the environment, reclaimed wood is more durable than wood harvested from new growth. These older wood boards resist warping and tend to be harder according to the Janka scale. This is partly because reclaimed wood has weathered numerous elements that have already caused expansion and contraction.
Some woods are rare and difficult to find. This is due to the fact that some species can no longer be harvested since they are protected, so the only way to purchase these types of species is to reclaim them from older buildings. Because of their rarity, installing them could potentially add extra value to your home.
How Much Does Reclaimed Wood Flooring Cost?
Because most reclaimed hardwood flooring is crafted to our customers' specifications, this flooring varies in price. There are also many other factors to consider, including the wood species, plank thickness, and finish options.
Reclaimed Wood Flooring Options:
Reclaimed Chestnut Flooring is rich in color and ranges from a light brown to a dark cocoa coloration, making it a beautiful addition to any home.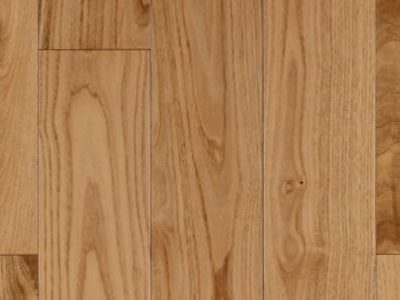 Reclaimed Oak Flooring offers a distinct and prominent grain pattern that varies in color. Variations of color include blonde to a medium brown.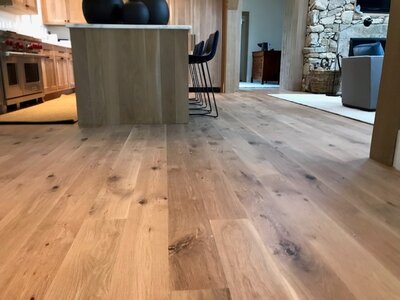 Reclaimed Heart Pine Flooring is rich in color and is a way for one to decorate their home with personality. This is especially true considering the contrast between the darker heartwood and the lighter sapwood.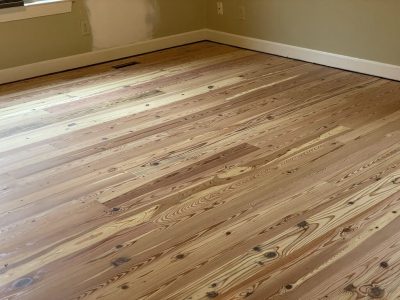 What Does Reclaimed Wood Look Like?
There is a lot of variety when it comes to reclaimed wood. As mentioned above, no two pieces of wood are the same. One can get an outdoor, weathered look or you can get a foot-worn look. Of course, you can also apply stain or a tinted finish to reclaimed wood or request texturing like hand-scraping or wire-brushing. These additional options will further customize your floor and result in an ideal space based on your specifications.
Where to Find Reclaimed Wood?
You want to ensure that the wood you purchase is not damaged or unusable. Although you can buy reclaimed wood online, one must be cautious since many will label something as reclaimed when it is not. It is best to get in touch with a hardwood flooring specialist to make sure you get quality flooring. Most hardwood flooring contractors know the best places to look for high-quality reclaimed wood flooring.
Overall, a home is meant to tell a story and can be a conversation starter in and of itself. Telling a story of how your flooring came from an 80-year-old tavern or 50-year-old barn is a great way to start a conversation!
While being more durable, more friendly for the environment, and creating a unique look for your home, reclaimed wood flooring is an excellent option for homeowners. Get in touch with us here at Auten Wideplank Flooring if you have any questions about reclaimed wood flooring. We would be happy to discuss your options and set you up with the perfect hardwood floor for your home or business!