Hardwood Flooring Trends for 2020
2020 has definitely been a year for the books. But one thing is for sure: people have taken the time to renovate their homes. One of those renovations has been installing new floors or refinishing old ones. Here is a list of various trends that the industry believes will continue for the rest of the year, and potentially be around for a while.
What's popular for stain and color?
1. Dark Stain/Color: This trend adds a unique tone to your home. Darker flooring makes lighter furniture really pop. However, darker flooring can be harder to maintain and clean since it tends to show dust more easily than lighter colored floor.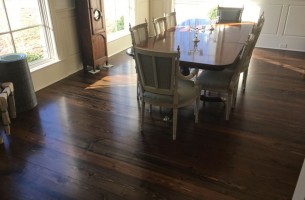 2. Gray Stain/Color: Gray hardwood floors continue to rise in popularity. It creates a rustic, almost barnwood-like look to your home. It can be tricky to achieve, though, so make sure you have a contractor who knows how to do it! Hint: it's not just applying gray stain. Variations of gray are becoming increasingly more popular. Some examples include a mixture of gray and beige (called greige) and mixing gray with either dark brown or black for a more smokey look.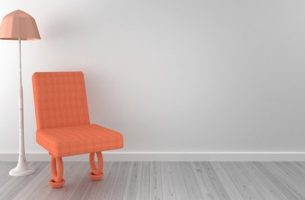 3. Light: another trend is to try and make the wood look as natural as possible. The goal for this trend is to make the wood look like it was freshly cut with no yellow coloration.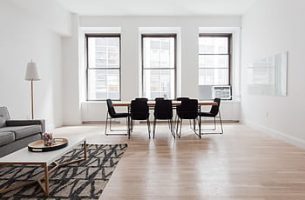 4. Whitewashed: While the latest preference is to have a more subtle white wash so the wood looks more natural, this color application results in mineral streaks that make the floor look more contemporary. Whitewashing looks best on white oak to achieve the most modern look.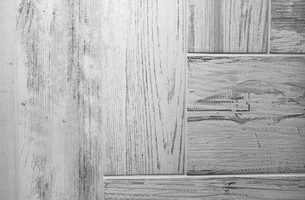 What's popular for wood finishes and textures?
1. Natural: many people are opting for a more natural look to their flooring. This can be achieved by using a matte sheen (not shiny). A lower sheen does not show as many blemishes and is easier to clean. Overall, it looks better for longer.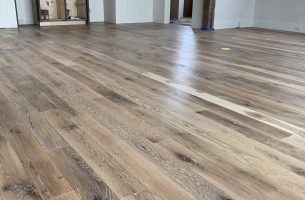 2. Natural oil: Also known as European Oil, this type of finish permeates the wood and hardens it from the inside out. Known for being extremely durable and environmentally friendly (no harsh chemicals), this finish has grown in popularity and will likely continue to be popular for at least the next decade. You can read more about it in our blog European Oil / Natural Oil Wood Finish.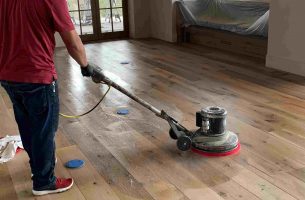 3. On-site Refinishing: As opposed to prefinished flooring, this process allows more consistent coloring across the floor and looks more professional. This process also results in a truly customized and unique floor. If you're worried about dust, don't be. Auten Wideplank Flooring refinishes floors using a low to no dust technique.
What's popular for the types and style of wood?
1. Solid hardwood: Many people are choosing true solid wood over engineered wood or bamboo (which is actually a grass). Using solid wood improves the value of your home and can last for more than 100 years! Solid wood also allows homeowners to refinish and recolor their floors to match their changing preferences over time. floor.
2. Wide planks: Strip flooring around 2 inches has gone out of style. The trend sees boards getting wider and wider. Wide planks make your home look more spacious and really take on the character of the home itself. Modern spaces look more modern while rustic spaces look more rustic. Read more about wide plank flooring here.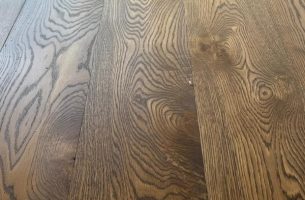 3. White Oak: This type of wood species has a smoother grain and encourages a more contemporary look. With white oak, there are a wide variety of color and stain options available to you that might not be available with other types of wood. It is also very water resistant. Check out our blog here on the differences between white oak and red oak.
4. American Grown: many people have strong political opinions which has created a more American-focused product desire. The trend is favoring mostly white and red oak, but we are also seeing interest in other American grown wood like maple, hickory, and pine. Buying local reduces our carbon footprint and promotes sustainability. They are also less expensive since they are grown locally and are not having to be shipped across the ocean.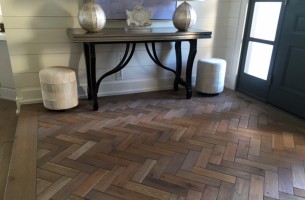 5. Reclaimed Wood: This trend involves taking old building materials, like barnwood, old wine barrels, etc. and reusing them for flooring. This process creates a truly unique floor that is durable and environmentally friendly! Most of these floors look naturally distressed.