Featured Species: Brazilian Cherry
Our featured species this month is one that is sure to add that element of beauty to your home that you have been looking for. It is Brazilian Cherry.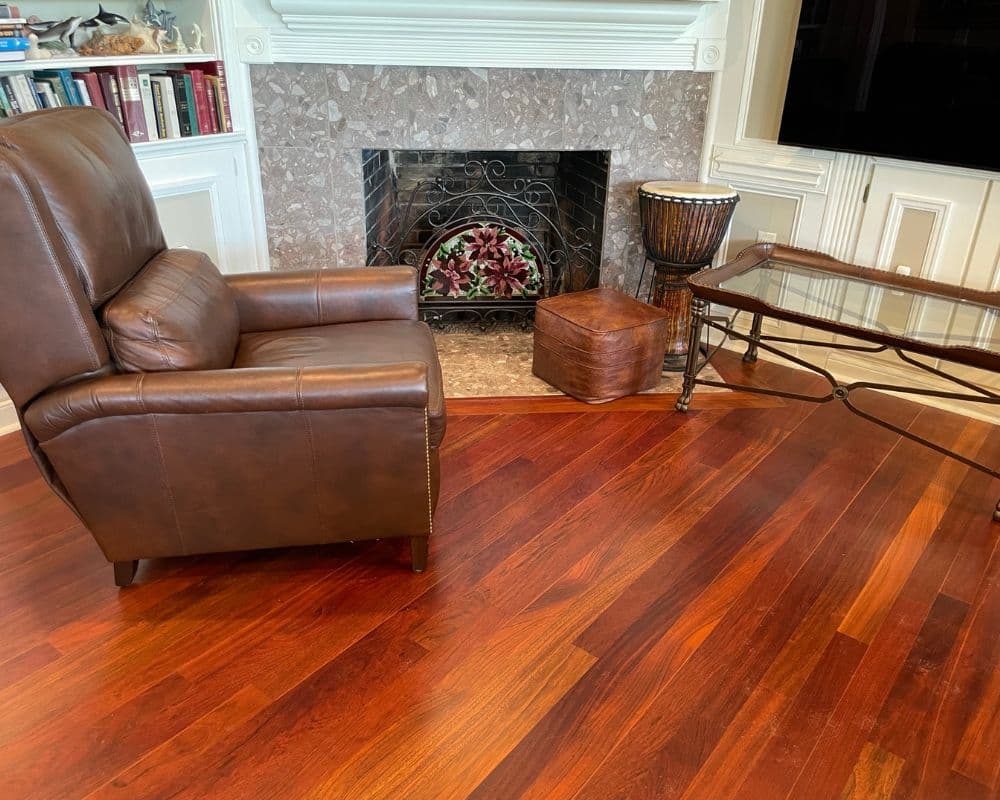 Brazilian Cherry has been a popular choice for higher-end homes for many years, even though the popularity has waned in recent history. Some attribute this to the increase in popularity of other wood types taking over the market. This includes wood like White Oak, Red Oak, and Hickory. Others attribute the decline to decreased availability of solid hardwood planks due to over-harvesting in the Amazon, resulting in Brazilian Cherry being an endangered tree species. While certainly an understandable explanation, there is actually evidence to the contrary.
The Forest Stewardship Council (FSC) does not prohibit Brazilian Cherry from being purchased. If it were an endangered species, that would not be the case.
It is not listed in the Convention of International Trade in Endangered Species of Wild Fauna and Flora, which indicates whether certain species are endangered and, therefore, protected.

It has been categorized as a species of least concern by the International Union for Conservation of Nature.            
People mistakenly saying it is endangered is understandable due to the growing concern over the health of the Amazon Rainforest. However, for this specific species, it simply is not the case.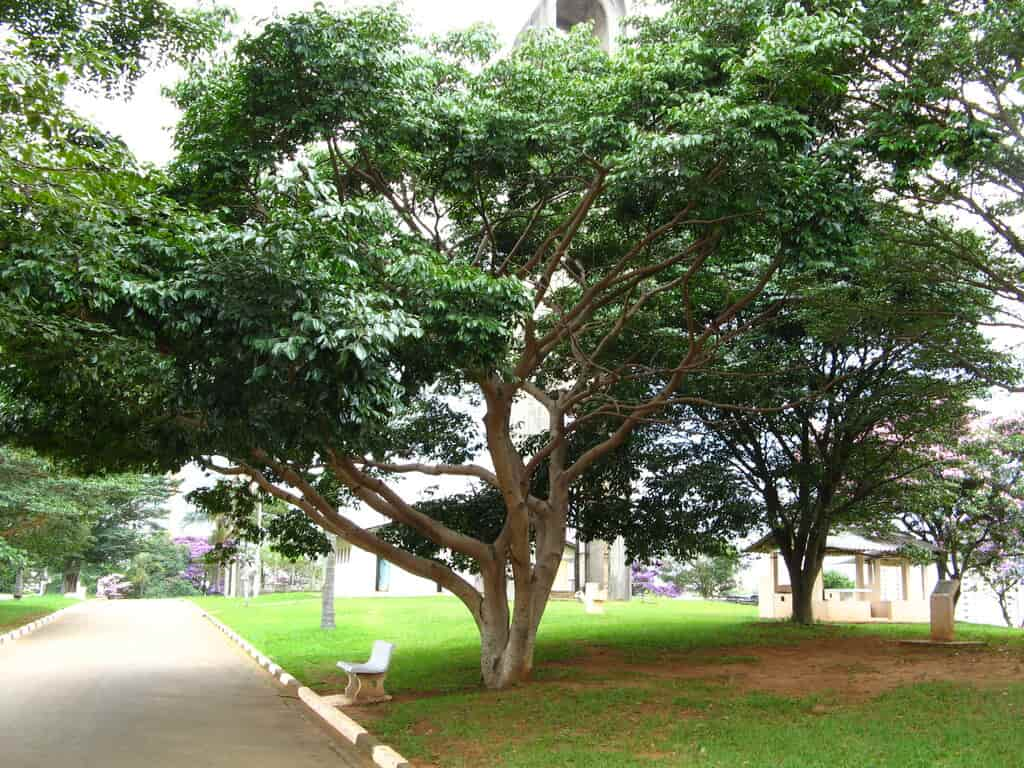 Another fun fact: It's called Stinking Toe because the edible pulp surrounding the seed pods has a very unpleasant odor, and the pods are shaped like a toe.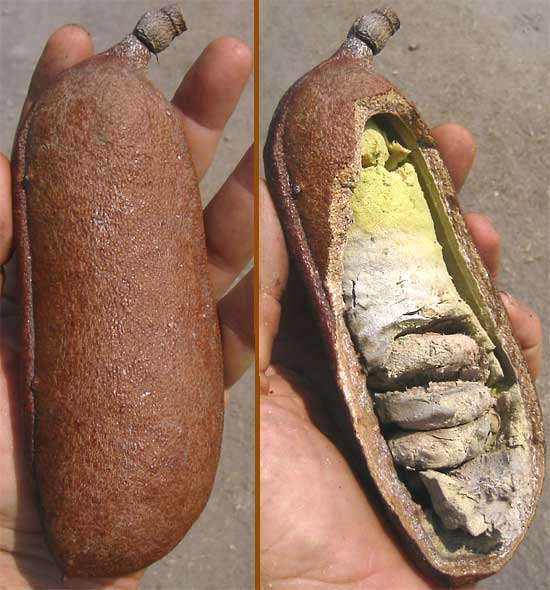 The wood itself features a rich color palette with red undertones. When it is freshly cut, the wood is a light pink color, but once it dries, and especially after it is finished, it darkens, creating the iconic Brazilian Cherry look. It also features an intricate grain pattern that adds a unique element to the floor and can include darker stripes down the length of the board.
Between the grain pattern and the variance in shades, this wood is a great choice to pair with other wood species. Here you can see where we paired it with a dark stained Hickory and included a transition piece to aid in the continuity of the floor throughout this home.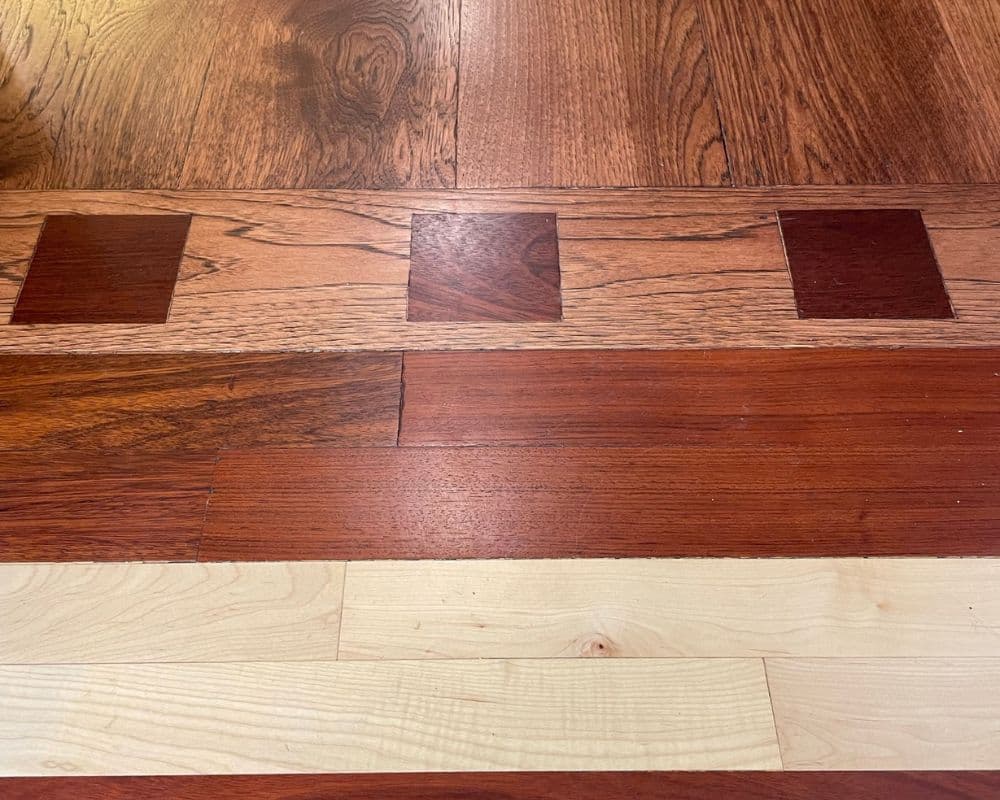 Brazilian Cherry, sitting toward the top of the Janka scale at 2350, is one of the hardest species of wood. Because of this, it is extremely durable and resistant to scratches, dents, and other damage. It is so hard due to the density of the fibers, and this density also makes it fire insect resistant as well.
Of course, while providing the above benefits, the density and hardness also pose some challenges for installation. Installing solid Brazilian Cherry requires special equipment and techniques to secure the planks to the subfloor. So, you'll definitely want to hire a professional to install this type of flooring. If you just want to try your hand at a DIY project, you can buy engineered planks, which will be easier to install.
Something else to consider is that Brazilian Cherry produces a natural oil. This oil can also make installation more complicated since it will affect the adherence of any glues that are being used. However, the oil also kills mites and mold spores, resulting in an excellent option for anyone who suffers from allergies!
Another interesting fact about Brazilian Cherry is that it is naturally resistant to heat and the expansion/contraction that can occur with weather changes because of its density. Consequently, it is one of the top choices for installing over radiant heat flooring.
Although this species of hardwood can be relatively expensive, it certainly has its perks. By investing in this type of flooring, you enhance the value of your home and will have a floor that is durable and aesthetically pleasing for many years to come.
Are you interested in learning more about Brazilian Cherry? Give us a call or fill out the form below to speak to a hardwood flooring specialist today!