Protecting Your Hardwood Floors in the Winter
Want to get the best out of your wood floor during the wintertime? There are a few things you want to do to make sure your floor is performing its best.
Depending on where you live, winter could be half the year or, in East Tennessee, just a few months out of the year.
If you're thinking about installing a hardwood floor in your home, here are some things you need to know about protecting your floor in the winter: 
Two issues you can avoid by maintaining your floor in the winter:
1. Gaps between the floorboards
As the air gets drier in the colder months, this can cause the wood to contract, leaving gaps between the boards. Most of the time, these gaps are not very noticeable, and with proper cleaning procedures, won't pose any issues.
This is probably the worst-case scenario. We visited a home once where the air was so dry that the wood not only gapped, but the tops of the boards drew up, creating the shape of a cup. We were able to add some moisture to the air, and after a while, the floor laid flat, and we were able to refinish it.
You can prevent these issues! Here's how...
The first thing is to perform basic care on your floor. This includes vacuuming often and cleaning with recommended products. In the winter, people can track in snow and salt on their boots, causing damage to the floor.
You can also make sure you have good, absorptive rugs at your entryways and make sure people wipe their feet before they walk on the floor. Keeping your floor clean is an essential first step!

Read more about caring for your hardwood floor here.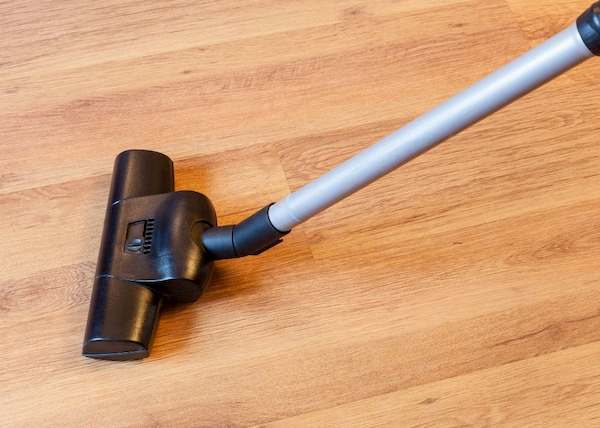 The biggest thing to remember is that hardwood floors need a certain amount of moisture to look their best. The perfect humidity level for hardwood floors is around 50%. During the summer, the humidity levels are usually higher (depending on where you live). Your air conditioner will take some of this moisture out of the air, making your humidity level inside generally between 45-55%. This is why you aren't likely to see much gapping or change in your floor during the summer.
In the winter, the air outside tends to be drier and even drier inside, thanks to your heater. In East Tennessee, we have recorded the outside air in the winter to have a humidity level in the low to mid 20's. This alone is too dry for hardwood floors. But when the heat is on inside, we have measured humidity levels to be in the teens and even lower! This is not only bad for the wood; it is bad for you. This is one reason we end up with scratchy throats, a dry cough, and sometimes bloody noses in the winter. Doctors might recommend you run a humidifier at night to help prevent these symptoms. Just like you, your wood floor can benefit from humidification.
How To Increase the Humidity Levels in Your Home
Using personal humidifiers, like what doctors would recommend, helps a little. Still, it is not enough to really help your floor. The best thing you can do is invest in a humidification system. Some HVAC systems already have this, but you can also purchase a humidifier add-on for your current system. There are different types of humidifier add-ons, so you will want to talk to an HVAC specialist about which one is best for your home. However, no matter which system you purchase, you will want to keep up with the maintenance and change the filters when recommended. We've seen these systems stop working due to a lack of care.

A brand that specializes in humidifiers for hardwood floors is April Air. Other companies also make humidifiers. We recommend doing your research and finding the brand that fits your needs the best.
If you have any questions on how to take care of your hardwood floor during the winter, give us a call! We love to help our clients have a happy and healthy floor for many, many years to come.