Our blog about the Top 10 Hardwood Flooring Trends of 2020 mentioned that Reclaimed Wood Flooring is popular this year. We see this is trend continuing to grow as the push to be more eco-friendly and environmentally conscious continues to grow.
What is Reclaimed Wood Flooring?
Simply put, it is recycled wood. More specifically, it is wood that has been previously used in other building projects. This could be anything from old barn siding to hardwood floor removed from a 100-year-old house. In any case, the wood is recycled as flooring instead of being burned or thrown into a landfill.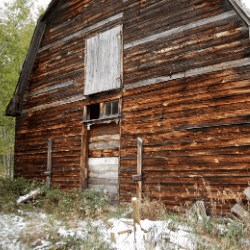 How is Reclaimed Wood Flooring Eco-Friendly?
As mentioned above, the wood isn't burned, so it doesn't increase the greenhouse gases in the atmosphere. It isn't thrown in a landfill, so it decreases our carbon footprint. Using reclaimed wood prevents the harvesting of new growth trees. It also reduces the overall number of trees cut down and processed for lumber.
What Does Reclaimed Wood Look Like?
There are a wide variety of species available when it comes to reclaimed wood. These species have also been used in various ways, so no two boards or types are going to look the same. Sometimes you will get a weathered outdoor look while other times you will get a foot-worn look. However, you can refinish these woods to create a unique look and feel that matches your specifications.
What Are the Benefits of Using Reclaimed Wood?
Aside from being more environmentally friendly, reclaimed wood is often more durable than wood harvested from new growth. The boards resist warping better and tend to be harder on the Janka scale. This is because the boards were often cut from older growth trees that were larger and grew slower than new growth trees. These boards have also been exposed to the elements, going through different periods of expansion and contraction.
You can find exotic or rare woods that might be difficult to find. There are some species of trees that you can no longer harvest because they are protected. With reclaimed wood, you can sometimes find these species that are no longer available, adding value to your home.
Your floor tells a story. Imagine telling guests that your hardwood floor was recycled from an 80-year-old tavern or 50-year-old barn. Talk about a conversation piece!
Where to Find Reclaimed Wood?
Many places sell reclaimed wood online, but you have to be careful. You want to make sure the wood isn't damaged and is usable. Your best bet is to contact a hardwood flooring specialist to make sure you get quality materials. Most hardwood flooring contractors know the best places to look.
Interested in Reclaimed Wood Flooring for your home or business? Contact
today to find the best flooring for your home or business.